We began our journey in 2016 in the Audubon area (hence the name of the company) of New Orleans, LA, when Dr. Rostyslav Semikov (a son of a cancer survivor) started his postdoctoral fellowship research at the Louisiana State University Neuroscience Center.
In 2018 we moved our headquarters to Texas Medical Center in Houston, TX, and continued growing our operations globally. Today, Audubon Bioscience is a rapidly growing team of 70+ people globally committed to helping our partners succeed in their clinical research.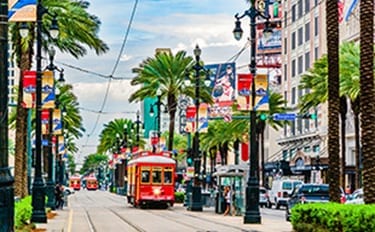 At Audubon Bioscience, our goal is to support cutting-edge cancer and  precision medicine research to find new life-saving diagnostics and treatments. Quality biospecimens and their data are a critical part of achieving this goal, which is why we focus so much of our efforts on processes that ensure their viability and usability. Meeting our customers' needs is the other critical component. By listening to and working extensively with each researcher, large or small, we ensure that you receive the right samples for your project at the right time.
We are working towards a world where cancer could be early detected and effectively treated (equally for all). We strive to become the world's best private biospecimen provider, fueling research that will make this vision a reality.
Put patients' interests at the center
Focus on satisfying researchers' needs
Build the best team in the industry
Achieve precision and quality in our work
Practice integrity with high ethical standards
We provide biospecimen solutions to cancer and precision medicine researchers to support discovery of new life-saving diagnostics and treatments
Global Network of Clinics
Audubon Bioscience procures biospecimens from our extensive network of 120+ clinical sites spread throughout the USA, Europe, Asia and Africa. Because we collect samples from around the globe, we are able to offer a tremendous variety of genetically diverse samples and hard-to-procure specimens, including samples that are treatment-naive and ethnicity-specific.
Our team includes industry-leading experts with years of experience in biospecimen procurement.
We adhere to the highest ethical standards and are compliant with national and international regulations.
Our network includes dedicated shipping and logistics partners, ensuring rapid, timely delivery.